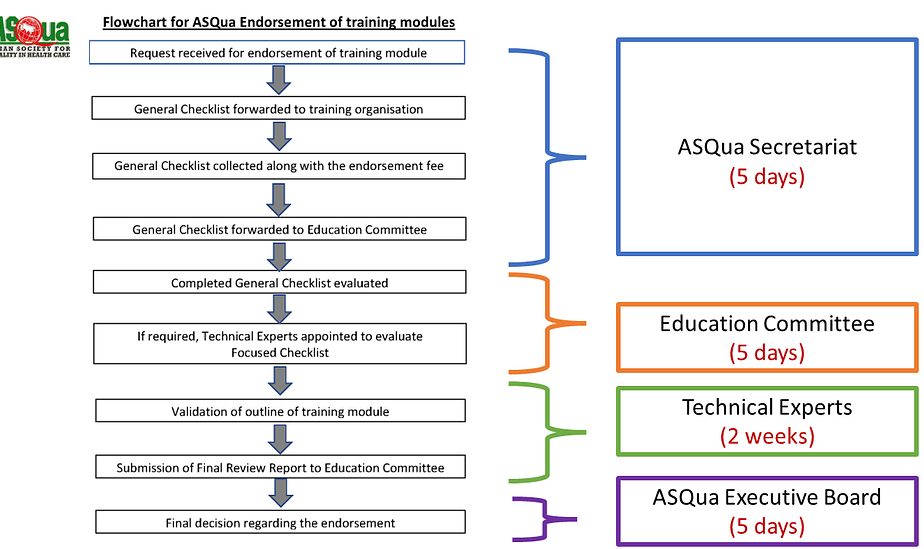 Dear Colleagues,

Greetings from the Asian Society for Quality in Health Care (ASQua) and we hope this finds you and your family safe and well.

As 2021 wound up amidst the pandemic, ASQua is very proud of its work in advancing the frontiers of information sharing and dissemination. Through webinars, online poster sessions etc, ASQua has empowered many of its members and stakeholders to assimilate new-age knowledge, working towards improved Patient Safety and Quality of care.

Following up on these endeavours, ASQua now endorses training modules of healthcare quality programmes provided by like-minded bodies and clinical societies in various countries in the region. This opens up significant opportunities to raise the visibility, credibility and the outreach to the target audience in the ASQua region and international healthcare networks besides boosting participation in such training programmes.

If you are interested in promoting your healthcare training course to a wider audience with the endorsement of ASQua, we welcome you to provide the details of your programme for ASQua's consideration. The Education Committee of ASQua, would evaluate the module for comprehensiveness, validate for correctness and endorse the course, thereby adding value to the offering. A nominal one-time non-refundable endorsement fee per training course will be charged to successful applicants. The endorsement period is one year, with the option to renew.

Kindly email us of your interest or any queries at asqua@asquaa.org regarding this programme and we'll be happy to help. Thanks and regards.